Optimizing Commercial Development
Inspired by making a difference; passionate about leaving a legacy.
Commercial Teams Need to be Involved Early on
Rapid Commercialization Partners, Inc., (RCP) is an expert firm dedicated to optimizing commercialization for clinical-stage biotech companies headquartered in Cambridge, MA.
RCP was founded to bring a legacy of innovation to the commercialization of biotech products. Comprised of executive-level experts from critical functional areas within commercial biotechnology, we work as an integrated, but fractional extension of our client partners to build the commercial foundation, address observable inefficiency and bring needed therapies to patients faster and with improved fiscal responsibility.
Our Mission
To create a critical shift in how emerging biotech companies approach commercialization. We offer our clients the ability to begin commercialization without having to build a large commercial footprint at a time when capacity for investment may be minimal or premature. We help our clients to prepare a solid commercial foundation while implementing best practices and processes from the start.
Remove Obstacles and Circumvent Costly Distractions
Building an elite commercial organization takes time and investment. An RCP engagement provides a fully operational, multidisciplinary team of seasoned commercial executives from day 1, who understand the critical factors that drive performance and have a proven ability to achieve results.
We operate as an extension of our client's organization providing comprehensive, cross-functional commercial expertise and implementation, in addition to an extensive network of strategic alliances that serve our clients seamlessly during any engagement.
Our approach drives value by enabling our clients to continue growth and expansion while simultaneously preparing for commercialization. This duality eliminates time lost due to ramp-up and reduces the learning curve for new and/or existing commercial hires by providing an elevated platform from which to achieve future commercial success.
Our Goal
To ensure that the fundamentals are done correctly, to help build the market and develop critical external relationships necessary for success and to transition out through a defined exit plan that provides training and support over time. 
Phases of Commercialization
End-to-End Strategic Commercial Planning and Execution
Key Stakeholder Engagement

Indication Prioritization

Clinical Trial Design and Outcome Assessment
Market Assessment and Positioning

Patient Journey Investigator / Key Opinion Leader (KOL) Development (Mapping and Engagement)

Market and Patient Access Landscape
Medical Affairs Integration

HEOR (Gap analysis, Evidence Generation Plan)

Market Access Patient Journey

Landscape Assessment, Pay Mix Assessment

Payor Communication Kit (Payor Insights and Requirements)

Brand Plan Campaign Development

Organizational development and scale-up
Message Development (commercial vs. medical)

Disease and Branded slide decks

Pricing Governance and Approvals

KPI Setting and Measurement
Optimized commercial readiness leads to better outcomes
Excellence in Commercial Preparation Drives Value
There is no recourse to recapture lost productivity or lost revenue. Studies have shown that if a product fails to meet launch-year expectations, the probability of recovering revenue in subsequent years declines sharply. Many factors that contribute to missing expectations can be mitigated early with thorough planning and disciplined execution. It's therefore crucial that commercial expertise be incorporated at the initial phases of the commercialization journey.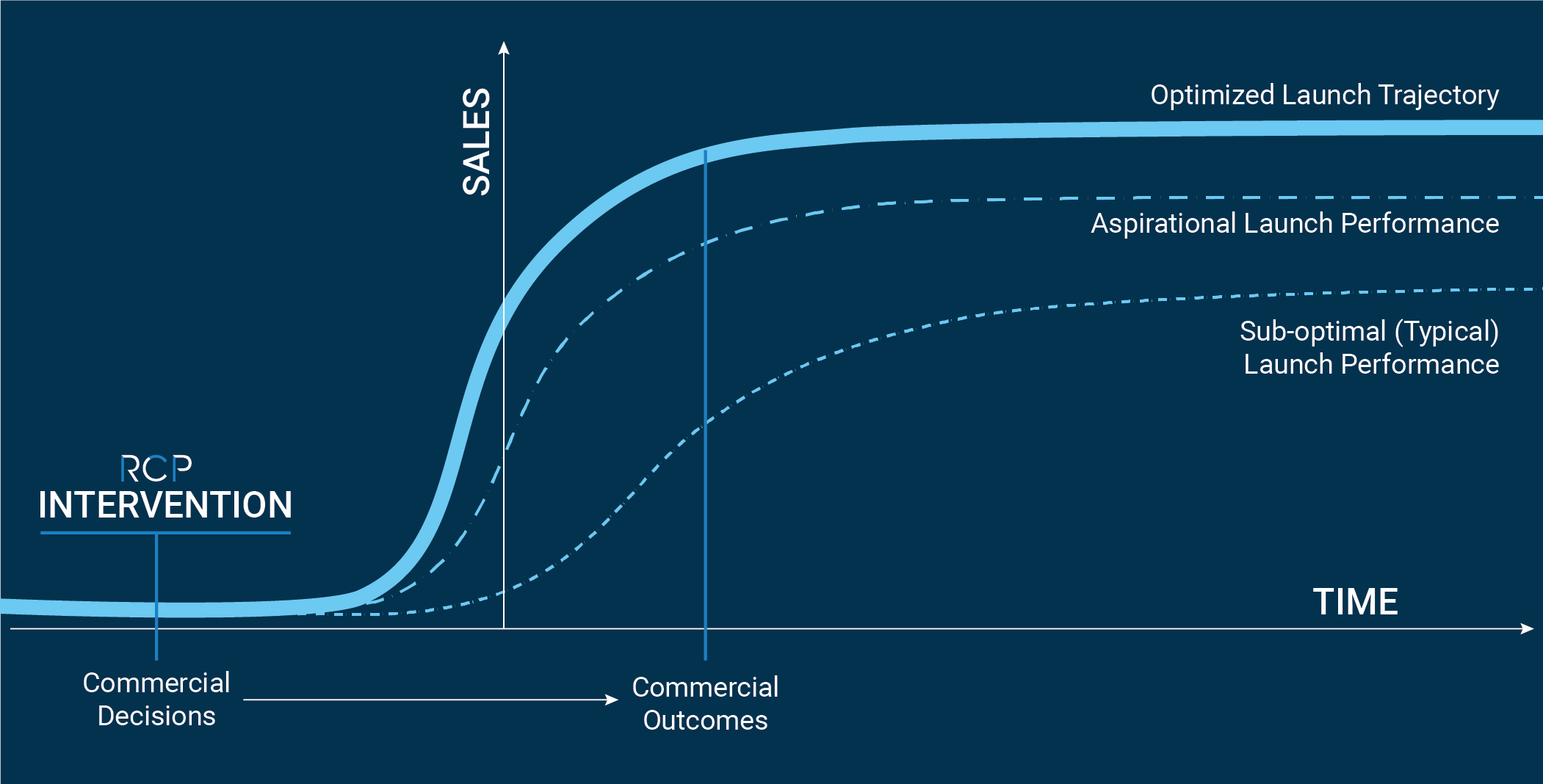 Excellence in commercial preparation and planning drives value, which supports future investment or potential acquisition. Independent of where a company is along their commercialization journey, RCP can help identify where gaps exist and deliver actionable solutions.
Bridge the Gap in Commercial Expertise
Integration of the commercial perspective can decrease time-to-market, ensure the product will meet stakeholder needs, differentiate from the competition, meet access requirements and optimize return on investment.
Ensuring that commercial fundamentals and insights are integrated with precision early on positively impacts the ability of our clients to meet or exceed revenue targets and achieve commercial milestones.
RCP provides industry experience and executional expertise on critical decision points early in the commercialization process that determine success.
RCP is a woman-owned business enterprise (WBE)
Christina J. Ansted, MPH, CCMEP is a dynamic, results-driven, and entrepreneurial biotechnology executive dedicated to building a legacy of innovation for how clinical-stage biotech companies approach commercialization, improving rates of success and to making a difference for patients living with rare or poorly managed disease.
Christina has extensive experience in the global commercialization of rare disease products, medical services, and medical communications with expertise in patient identification and diagnostic strategy. She is a solution-oriented leader, highly focused on optimization, outcomes, and driving value across an organization with a sophisticated approach to commercialization strategy and execution and building high performance teams.
RCP has executed global launch planning in more than 5 major and emerging markets covering the U.S., Canada, European Union, South America, Australasia and Japan in over 12 countries.